It is expected to attract well over ten thousand devotees from all over Europe. Sufferon water will be sprayed before the Chariot right through the whole journey and devotees and accompanied the Chariot barefooted.
As in the past the ceremony will be officiated by 3 or 5 leading priests (Kurukkal) commencing at 9.00 am and the procession then goes through the 18th and 10th ward of Paris and terminates its journey around 3.00 pm. ''Kavadis'' take pride of place by leading the procession followed by the ''Nagasuram & Drummers'', and trailing the Chariot will be mainly the women devotees carrying camphor pots on their heads and singing devotional songs.
On this day certain individuals and business organisations have very kindly consented, and have taken the initiative to distribute food packs to all the devotees.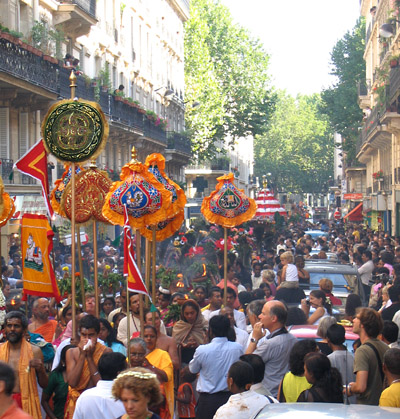 All are welcome to participate in this happy event, thus fostering and creating an atmosphere of cordiality and friendship among the various communities.

COME ALONG WITH YOUR FAMILIES AND FRIENDS TO GET THE BLESSINGS OF LORD GANESHA ON THIS UNIQUE DAY.